Quinoa Salad Recipes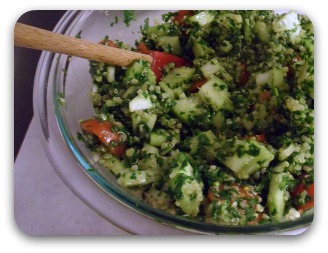 Quinoa salad recipes come in all shapes and sizes. We've got tabouli. We've got salad with curry dressing. There's cucumber salad here. We even have salad that's known for how easy it is to make!
But the best part of all is that on this page you can send us your favorite recipe to be seen by all! We'll even hold a quarterly contest to see who has the best quinoa recipe. And there's this little matter of a prize being involved for the winner! Submit your recipe here.
So, let's get to the recipes...
Quinoa tabouli (tabbouleh)
The first of the quinoa salad recipes we'll talk about is Tabouli. You can see the full recipe at our quinoa tabouli page.
If you've never heard of tabouli before, I'll give you a little info. It's a popular salad in the middle east.
Tabouli typically contains bulgur, parsley, garlic, cucumbers, tomatoes, mint, and onion. And it's usually topped with a dressing of lemon, olive oil, and salt. Simple, yet elegant!
To transform it into a quinoa tabouli -- instead of a regular tabouli -- you can just substitute quinoa for bulgur. Gluten-free and nutritious! Your family and dinner guests will be so impressed.
Now, here are a few other quinoa salad recipes you're sure to want to try…
Share One of Your Favorite Quinoa Salad Recipes!
Do you have a quinoa salad recipe you'd like to share? Tell us about it here! We'll include it on this page and enter you for a chance to win a $25 gift card.
But you'll have some competition for the prize -- see here for other visitor-submitted recipes!
So share early and share often!
Easy quinoa salad
As the name of this salad suggests, its claim to fame is that it's easy. What makes it so easy? Just get all the ingredients together and toss it on a plate. Voila! You've got a healthy and filling salad.
The ingredients make it very similar to the tabouli above, except it doesn't have mint leaves or lemon juice.
Ingredients
All amounts are to taste.
Quinoa
Cherry tomatoes, halved
Green pepper, chopped
Onion, chopped
Spinach, chopped in food processor with S-blade
Oil
Salt
Herbs and garlic (Optional)
Procedure
Toss all ingredients on plate and mix a little.
That's all. Easy, isn't it?
Other tips
We like to eat this with avocado on the side.
You could also try black beans to make it even heartier. Adding cucumber or chopped celery would add more nutrition. So give any of these a try.
Alright, on to another recipe!
Quinoa salad with curry dressing
This will remind you of an asian-style dish.
Use quinoa right off the stove for the best results. We've also tried it with baked wild caught salmon and green beans. Yum!
We'll cover the dressing first and then get to the salad...
Dressing ingredients
1 Clove Garlic, minced
¼ Cup Chopped Onion
Oil, any amount
½ Cup Water
½ Cup Coconut Milk
1 ½ tsp Curry powder
1 tsp Salt
1 tsp Lemon juice, fresh
Dressing procedure
In a small pot, saute garlic and onion in oil over low heat.  Add remaining ingredients and stir until mixed. Remove from heat.
Here's a helpful tip. Try making this dressing the day before you put it together with the salad.
Salad ingredients
Use any amount and proportion for the following ingredients.
Chopped cabbage
Finely chopped spinach (In a food processor, we chop up about 2 Cups of leaves. It's amazing how much you can eat when it's chopped and I don't even taste it!)
Shredded carrots (I think I only used 1 carrot.)
Sprouts (I used lentil sprouts, and quinoa sprouts.)
Hot fresh Quinoa
Soaked almonds
Salad procedure
In a salad bowl, mix cabbage, spinach, carrots, and sprouts. On the plate, put the salad mix, hot quinoa, and almonds on the very top.  Pour dressing over all.
Alright. On to the next of our quinoa salad recipes!
Quinoa cucumber salad
This tangy salad is great in the summer.
We'll talk about the dressing and then the salad itself...
Dressing ingredients
¼ Cup Coconut Milk
2 tsp Lemon juice
¼ tsp Salt
½ tsp Dill
⅛ tsp onion powder
Chopped onions, to taste
Pepper, to taste
Dressing procedure
Stir together.
Salad ingredients
Quinoa
Cucumbers, chopped
Broccoli, chopped to bite-size
Green pepper, chopped
Roasted almonds, as garnish (On a stove over medium heat, roast raw almonds in a little oil. Stir every few seconds until they turn a little darker. Remove from heat and add a little salt or spice.)
Tomato, chopped as garnish
Salad procedure
Mix all together with measurements according to taste. Add the dressing.
OK. Now it's time to find out the favorite of your quinoa salad recipes!...
Have a Great Quinoa Salad Recipe?
Now it's your turn! Tell us about your favorite quinoa salad recipe. You know -- the one your family and friend all love. That one!

We'll even make it into a contest! Every quarter -- that's three months, of course! -- we'll be giving away a $25 gift card to the submitter who has the highest-rated quinoa recipe.

There are a few options for the gift card -- Amazon being one of them. It's your choice.

We'll announce winners in March, June, September, and December. You can submit as many recipes as you want.

So what do you have to lose? Share your favorite quinoa salad recipe with all the friendly visitors of this site.

Be sure to share any pictures of the finished product and the process. They'll appear alongside your recipe. Just make sure they're re-sized to 800x600 pixels.
What Other Visitors Have Said
Click below to see quinoa salad recipes from other visitors to this page...

Thousand Island Quinoa Salad Recipe

Our family loved this salad--especially because of the thousand island dressing. Even our 1 yr old wanted to eat spoonfulls of just the dressing. And, …
Recommended Pages...
Sep 13, 14 10:05 AM

Quinoa recipes for kids -- nutrition that kids will love!

Aug 29, 14 07:17 AM

These are great hot off the griddle! Even try adding herbs like basil or garlic powder for extra flavor.The chia seeds add nutrition. But if you don't

Aug 27, 14 07:11 AM

Add some nutritious quinoa to your daily bread with these unique quinoa bread recipes.
Sign-up for Our Quarterly Quinoa Update!