Gluten-Free Quinoa Flat Bread
by Lori
(Watertown, WI)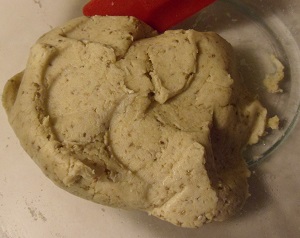 Flatbread Dough
These are great hot off the griddle! Even try adding herbs like basil or garlic powder for extra flavor.
The chia seeds add nutrition. But if you don't have any on-hand, don't worry. They're optional, in my opinion.
Gluten-Free Quinoa Flat Bread Ingredients
1 Cup Quinoa flour
2 Tbs Chia seeds, ground (Flax could work, too. It's easy to grind seeds in a coffee grinder.)
1/4 tsp Salt (We really like Real Salt. But any salt will do.)
1/2 Cup Warm water
1/4 Cup Oil (We use Grapeseed oil for its high burning temperature.)
Gluten-Free Quinoa Flat Bread Instructions
Mix the dry ingredients.
Add oil and water.
Mix well.
Fry on oiled griddle or skillet with Medium heat until crispy.
Our Take
This may also work in the oven instead of an a skillet or griddle. I'd want to try 350 degrees for 10 minutes.
This quinoa flat bread turned out to be fun little slices of bread to put guacamole on! Very tasty.
Next, I'd like to try making this recipe into a quinoa pizza dough! Fun, fun!
Quinoa

›
Quinoa Bread Recipes

›
Gluten-Free Quinoa Flat Bread