Quinoa -- for a Healthier Life
You -- the health-conscious consumer -- can really benefit from making quinoa a regular part of your daily meals.

Do you need to stay away from gluten? Imagine an affordable wheat substitute with serious nutrition that satisfies. That's quinua.
Why Are You Interested in Quinoa?
Maybe you're suffering from Celiac's disease or Chrohn's disease. Or you may be plain old gluten-intolerant. If so, then this grain is for you.
You can just taste that gluten-free goodness in every bite!
But it's not all about what quinua doesn't have (i.e., gluten) that makes it such a great choice...
It's also packed with nutrition that is sure to interest anyone who cares about her health.
How Our Family Got Interested in Quinua
Allow us to share with you our story and how our family has come to love this nutritious supergrain.
The Problem (and Solution)
For our family, it was simple.
He's never been officially diagnosed, but Paul (the husband and father of our family) is gluten-intolerant.
He craved wheat and ate a lot of it!
As a result he was constantly exhausted. So he napped for about an hour every day...
And yet sleeping didn't help.
Finally our family nutritionist suggested he try to cut wheat out of his diet.
So Paul gave it a try...
And in no time at all he lost 20 pounds. And no more naps!
But, Alas, Another Problem
So, great, Paul lost weight and wasn't tired anymore...
End of story... Right?
Well, not really.
In order to feel better, Paul needed to avoid wheat -- or more specifically gluten.
Do you know how many food products out there contain gluten?! Well, you probably do. But it was a shock for us.
What we needed was a wheat substitute.
It's a Bird... It's a Plane... It's "Super-Grain" to the Rescue!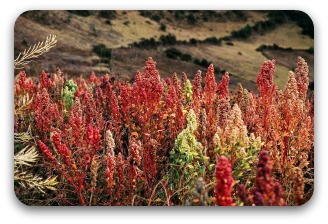 Quinua has turned out to be the perfect wheat-substitute for our family, as I'm sure it will be (or already is!) for you.
But it's so much more!
It's naturally gluten-free.
Many quinua recipes are vegetarian- and vegan-friendly.
It has a higher pH than other wheat-substitutes (for example, rice).
It's packed with nutrition.
Our two boys love it!
"Keenwa" to Your Health!
If our family can benefit from using this supergrain then so can you!
Join us in our exciting quinoa adventure!
Learn about it, buy it, cook it, and most importantly...eat it!
---
Recommended Pages...
Sep 13, 14 10:05 AM

Quinoa recipes for kids -- nutrition that kids will love!

Aug 29, 14 07:17 AM

These are great hot off the griddle! Even try adding herbs like basil or garlic powder for extra flavor.The chia seeds add nutrition. But if you don't

Aug 27, 14 07:11 AM

Add some nutritious quinoa to your daily bread with these unique quinoa bread recipes.
Sign-up for Our Quarterly Quinoa Update!